To:

The Monsanto Company
MONSANTO, DON'T TOUCH OUR WEED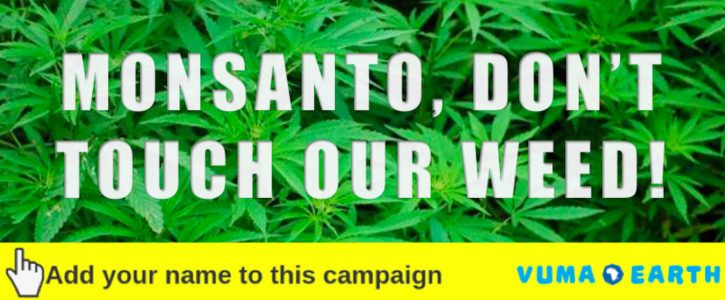 Send a loud and clear message to agricultural giant, Monsanto, telling them to keep away from our recently legalised marijuana.
Why is this important?
The legalisation of marijuana is one of the most progressive decisions our government has made - and an important step in divestment for big pharmaceuticals and businesses that profit on recreational substances. South Africans are now allowed to grow and privately use marijuana.
But, many have speculated that agricultural giant Monsanto Company has been toying with the idea of capitalising on this global wave of legalisation. They recently merged with major pharmaceutical Bayer (Pty) LTD.
Monsanto recently lost a court case because their signature pesticide was found to cause cancer, and have been known for unethical practice around the genetic modification of seeds.
DO NOT LET MONSANTO HIJACK THIS VICTORY!
STAND UP FOR YOUR RIGHT TO SAFE MARIJUANA.
_________________0
________________00
_______________0000
___0__________000000___________0
___00_________000000___________0
____0000______000000__________00
____000000____0000000_____00000
_0_____0000000_000000_00000000___0
00______000000_00000_0000000____00
0000_____000000_000_000000____0000
_000000000__0000_0_000_0_000000000
____000000000__0_0_0_00000000000
________000000000000000000000
______________000_0_0000
____________00000_0__00000
__________00_______0_______00
____________________0
Read this article for more information:
https://www.globalresearch.ca/the-war-on-weed-monsanto-bayer-and-the-push-for-corporate-cannabis/5534771
https://edition.cnn.com/2018/11/01/health/monsanto-plaintiff-accepts-lower-award/index.html