To:

Mzwandile Masina - Mayor of Ekurhuleni
SA FREE FROM NOISY FIREWORKS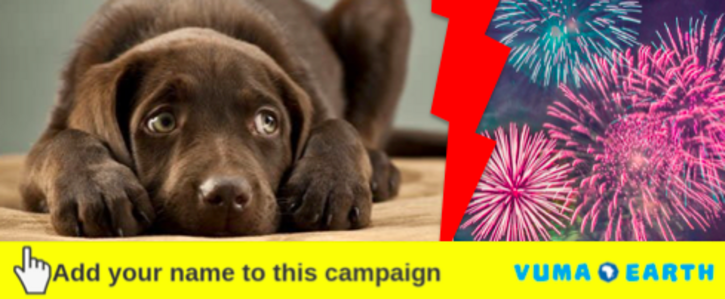 Ban the use of NOISY fireworks used during festive celebrations in Ekurhuleni, Gauteng, and spark a chain reaction across the country. With the alternative of silent fireworks available, there is no need for these harmful and noisy ones in society.
Why is this important?
We no longer have an excuse to celebrate with noisy fireworks that traumatise poor animals long after festivities.
Horses and dogs have been known to injure themselves and others by running away when frightened by fireworks. They could potentially cause accidents and damage to property.
Animal owners who have been advised to keep their dogs, cats and other pets inside the house during celebrations, so that the animals are safe and can't run away.
Owners are also encouraged to sedate their pets, but, all of this is completely unnecessary, since there are noiseless fireworks on the market.
One town in Italy, Collecchio, passed a law in 2015 that all fireworks displays must be quiet. IT IS POSSIBLE TO CELEBRATE WITHOUT HARMFUL NOISE!!!
By relying on rich color effects and tight visual choreography, designers of quiet fireworks programs can forgo the big explosions and still deliver a stunning show.
PLEASE URGE THE SOUTH AFRICAN GOVERNMENT TO FOLLOW THIS EXAMPLE WHERE WE ALL WIN.
For information -
https://www.qld.gov.au/emergency/safety/explosives-fireworks/fireworks/effects-of-fireworks
https://www.nytimes.com/2016/07/01/science/july-4-fireworks-quiet.html