To:

Minister Barbara Creecy- Department Of Forestry, Fisheries And The Environment, Minister Gwede Mantashe - Department Of Mineral Resources And Energy, Karpowership SA - Board Of Directors, NERSA - CEO Adv Nomalanga Petronella Sithole
SAY NO TO FLOATING BOILING KETTLES AND TICKING TIME BOMBS ON OUR SOUTH AFRICAN COASTLINE!!!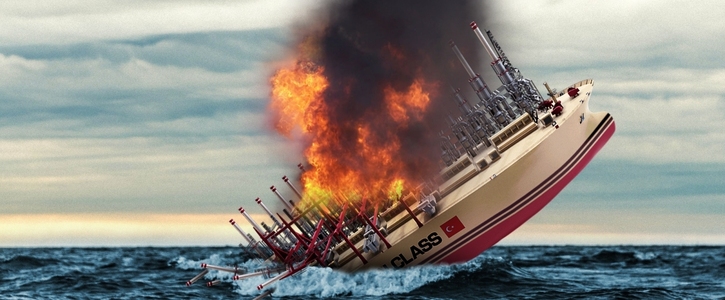 As recently as 03 December 2021, the Department of Forestry, Fisheries and the Environment (DEFF), under Minister Barbara Creecy, denied the Nseleni powership an application to moor a floating gas-fired power plant in Richard's Bay. The DEFF stated on record that the powership would have a high negative impact on the estuarine environment. It does NOT support ANY development in high biodiversity sensitive areas, and the application was denied.
Yet, two months later, here we are with approval of not one floating gas-fired ship, but 3 Karpowership, which will be moored off Richard's Bay, Coega and Saldahna Bay.
What has happened in 2 months? Has DEFF declared that Richard's Bay is no longer a high biodiversity sensitive area? Or was Nseleni's application denied to favour Mr Gwede Mantashe Karpowership push?
Karpowership SA is a newly licensed business (established in 2020) and was purposely put together for Karpowership SA tenders. None of the directors has experience in the Gas and Petroleum fields, and, as of today, no other business ventures have been undertaken by Karpowership SA. Not only is Karpowership SA inexperienced in this field, but there is also no integrity record or track record of Karpowership SA.
Each of the directors has had one or other dealings with those complicit in State Capture as recently released by the Zondo Commission, mentioned in reports 1 & 2.
• Minister Gwede Mantashe of the Department of Mineral Resources and Energy (DMRE)
• Former Minister of State Security, David Mahlobo,
•Former Minister of State Security Bongani Bongo, and
• Former President Jacob Zuma through his nephew Mandla Gcaba.
There are reports of alleged corruption, supported by the continuous moving of goalposts to facilitate Karpowership SA. Indicates favouritism by the Ministers concerned. Furthermore, Stakeholders are again excluded from the consultation, which seems to be the current trend of various governmental departments. 'Selective' consultations were undertaken during COVID-19 lockdowns.
Why is this important?
KARPOWERSHIPS are dirty, dangerous and expensive.
All 3 Karpowerships will be moored in 3 high biodiversity sensitive areas: Richard's Bay - Northern Kzn, Coega /Nqgura- Eastern Cape and Saldahna Bay- Western Cape.
° Richard's Bay:
As already admitted by the DEFF, "A powership would harm the estuarine environment". The DEFF also states, "That it does not support any development in high biodiversity sensitive areas", and yet it's been earmarked. Richard's Bay (with sea temperatures already at lethally high temperatures for some marine species) is of significant importance to the local communities that earn their livelihoods from the Bay and as a nursery area for various marine species, including prawns and crustaceans. The Mhlathuze estuary is considered an estuary of national importance by our government. The Mhlathuze estuary embayment is of national significance due to its size, habitat diversity and nursery function.
With the increase of devastating tropical storms and cyclones in the Mozambique channel and memories of tropical cyclone Eloise just a year behind us, we expect tropical cyclone Batsirai to brush past or make landfall on the Northern Kzn coastline this week. What type of impact would a tropical storm or cyclone have on a gas-fired ticking time bomb in Richard's Bay?
°Coega/Nqgura- Algoa Bay:
Due to its location, this Bay has a complex climate with wide variations in temperatures, rainfall and wind and is subjected to solid winds almost the entire year. The Coega/Nqgura port has an abundant and wide diversity of Fisheries species. It is a critical area as nurseries for various marine species (crustaceans, molluscs, etc.). But it is also a nesting area for many coastal seabirds, and for those seabirds on a migratory route towards Madagascar, the only Bay with nesting islands they can use for breeding. The area is a breeding area for African penguins, currently listed as Endangered on IUCN Red List. Humpback Dolphins (also listed as Endangered on IUCN Red List) use Algoa Bay (Coega/Nqgura) to nurse their calves. The Southern Right Whale (Baleen whale) give birth and nurse their calves in the Bay's shallow waters. The Bay is rich in biodiversity through which small-scale fisherfolk can support their families as their forebears had supported previous generations. The small-scale fisherfolk have an intimate relationship with the ocean, just like their forebears.
° Saldanha Bay:
Saldanha Bay is a natural harbour on the South African west coast. It includes part of southern St Helena, stretches to the Langebaan Lagoon, and is the only food source and livelihood for many small-scale fisherfolks. It is also currently part of the critical Baseline Benthic Survey which has already commenced in Saldanha Bay, 'The Cold Water Reef '. Langebaan reef is the most shallow cold-water reef globally and has an ancient oyster fossil reef. The Malgas island at the entrance to Saldahna Bay was declared a Marine Protected Area in 2000. Saldanha is linked to the Benguela upwelling system and has recorded taxa of over 100 zooplankton alone. The Saldanha Bay is also rich in biodiversity.
KARPOWERSHIPS are gas-fired power ships that burn fossil gas daily, generating significant volumes of methane-rich greenhouse gas. At the same time, smaller volumes of Sulphur dioxide and nitrogen oxide also enter the environment. This toxic pollution will harm our high biodiversity sensitive areas, the very same areas that the DEFF claims to protect.
The burning of fossil fuels, fossil gas included, drives climate change. We are already in a climate emergency, and we have to act NOW before it's too late. We are already feeling the effects of climate change: We are experiencing extreme weather, more droughts, more floods and more tropical cyclones, which have claimed the lives of hundreds this past decade and have left hundreds of thousands displaced and impoverished. When do we start to value human lives over corporate profit?
KARPOWERSHIP SA has made promises of job opportunities, which is probably more frightening: the last thing that we need is a ticking gas-fired time bomb and unskilled employees in an already highly compromised environment. The offers (3 Karpowerships promised 1000 jobs to South African citizens) are for highly skilled artisans. They would likely be sourced from abroad as the skills required to work on gas-fired power ships aren't readily available in South Africa.
As South Africans are trying to recover from endless corruption scandals and State Capture, we can not afford to be bullied into dirty and expensive energy for the next 20 years, costing us, the taxpayers, over R10.9 billion annually, especially since cheaper, greener emergency alternatives are already available using wind and solar to harness energy.
The answer is simple; it's the best and most immediate solution... A JUST TRANSITION TO RENEWABLE ENERGY.
We need a systematic change that puts PEOPLE BEFORE PROFIT.
Sources:
https://lifeaftercoal.org.za/media/proposed-gas-power-plant-in-richards-bay-has-been-refused-environmental-and-water-approvals
https://www.iol.co.za/business-report/companies/karpowership-sa-projects-get-legal-go-ahead-from-high-court-718bd6c0-614d-463b-87bc-24597f5c8a98
https://www.iol.co.za/news/richards-bay-school-children-and-residents-rushed-to-hospital-after-unknown-gas-leak-causes-vomiting-nausea-and-breathing-difficulties-7d3fbae6-c3ff-4711-b9bf-b1b7f14ad6af