To:

Gwede Mantashe, Minister of Mineral Resources and Energy of South Africa
Ban All Seismic Survey On SA Coastlines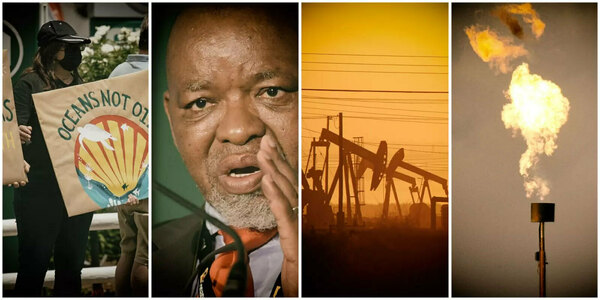 In November 2021, our government released its latest climate commitment under the Paris Agreement. South Africa intends to limit GHG emissions (Greenhouse Gas) and mitigate Fossil Fuels dependency, on what is required globally to reduce global warming and meet the 1.5°C. They were also given billions of rands to help speed up South Africa's Just Transition to renewable energy.
However, Minister Gwede Mantashe has licensed these oil giants to keep South Africa dependent on harmful and non-progressive fossil fuels. He can't break his fossil fuel addiction, and greed has turned his obsession to our oceans.
These oil & gas giants ( Shell, Total Energies, Sasol, Qatar Petroleum, Sungu-Sungu Petroleum, PetroSA, Impact Africa, New Age Algoa, BG International, and Silver Wave Energy), to mention a few, came to us bearing false hopes of economic growth and job creation for our people. Yet, we know that is an old-as-time tale they have used to exploit African people and cause environmental destruction.
As a result of a united court case environmental and human rights organisations filed against Shell in support of local communities, we've come to understand how seismic blasting not only poses a threat to the livelihoods of small-scale fishers but also how it can devastate marine life. Significant concerns are how seismic blasting impacts marine animals, like whales and dolphins, ocean biodiversity, food sources, and small-scale fishers' livelihoods and how it disturbs our ancestors' homes.
Recent research has proved that seismic blasting decimates plankton and can cause irreparable damage to fish species. The 260 dB, equivalent to a jet engine, scares fish species away, causing panic, which also causes stranding. Marine life uses and relies on sound to navigate, find food, communicate with each other, and survive.
The seismic blasting will interrupt the way marine species live and, in the worst-case scenarios, it can even result in death. The research and findings done by Petroleum Agency SA show the extent of these oil and gas giants' current and future seismic blasting plans along the entire South African coastline: To view the image, click on the link >>> https://www.petroleumagencysa.com/index.php/maps.
The fossil fuels industry does not care about conserving the environment and protecting its inhabitants; their only driving force is making more profit, supported by greedy government officials—the same individuals who should be leading South Africa to a sustainable renewable future.
WE CALL FOR A PERMANENT BAN ON ALL SEISMIC SURVEYS ACROSS SOUTH AFRICA'S COASTLINE!
Why is this important?